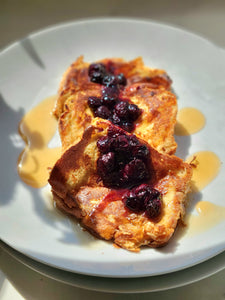 As someone who has never enjoyed eggs, some traditional breakfast foods can be difficult to enjoy   French toast is no exception. The dense egg dredge was never something I enjoyed in terms of flavour or (slimy) texture  So, with a block of tofu and some kitchen basics you will be able to enjoy this version of French toast, less the animal by-products For best results, use my CINAMMON SPICE and CITRUS SALT blend     WHAT YOU NEED:  1 bread loaf, sliced 1" thick 1/2 Tofu block, firm 1 cup milk 2 tsp vanilla 1 tbsp sugar 1 tsp...
---
• 30 minutes • fiesta kit • Mexican • quick • taco • taco blend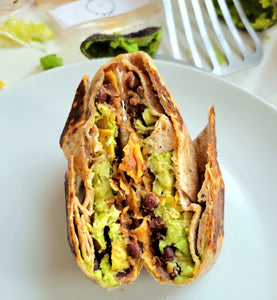 Here is the recipe for a delicious and easy tips make crowd pleaserMake extra protein ahead of time to make this quick and protein packed meal on the go!!WHAT YOU NEED: For the filling:3 Cups protein (I've used 2 cans of black beans)1 tbsp Cole's Organic Taco Seasoning 2 to 4 cups of stock/waterSalt to taste For the wrap:Tortilla wrapsCheeseChips/TostadaAvocado   For Garnish: Iceberg lettuce Sour creamSalsaHot sauce WHAT YOU DO:1. Heat saucepan and add a touch of oil2. Add protein and Taco Seasoning, mix to coat. Cook through/heat. 2 to 3 minutes for beans.3. Add enough stock to just cover...
---
• 1 hour • delicious • dinner • easy recipe • gravy • meal • meatless • no meat • sunday rub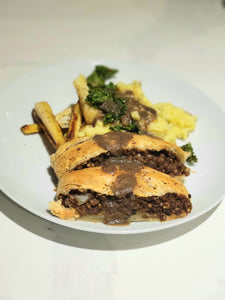 I have no beef with this take on a meaty classic, the beef wellington. Instead, this recipe incorporate a bevvy of vegetables and rich spices to make up the filling of this delicious dish.  This dish is perfect for a Holiday feast, Sunday showdown, or a make-ahead meal for someone on the go! I suggest re-heating in the oven to maintain a crisp pastry.  WHAT YOU NEED: 1 tbsp Flax, ground 3 tbsp Broth/water 1 Puff pastry sheet, thawed 2/3 cup Lentils 2 cups Vegetable stock/Water 1/2 Onion, diced 2 Garlic cloves, minced 1 Carrot, diced 1 Celery rib, diced 5 Mushrooms,...
---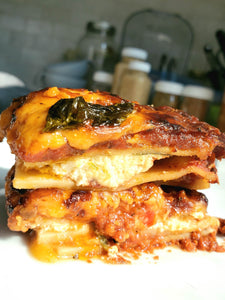 This 'meaty' lasagna is stuffed with healthy ingredients that make up this delicious, cheesy, tomato filled lasagna. Layers of cheese and a hearty tomato sauce, this lasagna is sure to become a staple in your kitchen! I always start off with the tomato sauce, and this can be made ahead of time to make for an easier assembly at dinner time. Fresh lasagna sheets also help with making this dish come together in a fraction of the time while adding a delicious fresh element to the dish!   INGREDIENTS  onion, chopped 3 garlic, minced 2 red bell peppers, chopped 1...
---
• easy • fall kit • halloween • puff pastry • pumpkin puree • pumpkin spice • quick • snack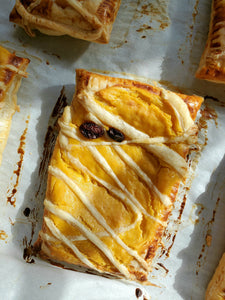 These hand-pies are a seasonal favourite in the kitchen. Fresh pumpkin puree and a couple of ingredients in your pantry, make this quick and easy spook-tacular treat!   WHAT YOU NEED: 1/4 cup Cole's Pumpkin Puree 2 tbsp condensed milk 1 tsp Cole's Pumpkin Spice 2 Puff pastry/Pie Crust Flour, for dusting 1 egg, for wash 16 raisins   WHAT YOU DO: Roll out the pastry and cut into 6/8 even sized rectangles and place on a lined baking sheet Spoon pumpkin mixture into the centre of each rectangle and spread within 1/4" of the edges Brush the edges of...