• 1 hour • delicious • dinner • easy recipe • gravy • meal • meatless • no meat • sunday rub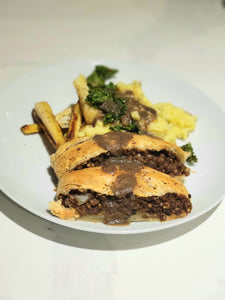 I have no beef with this take on a meaty classic, the beef wellington. Instead, this recipe incorporate a bevvy of vegetables and rich spices to make up the filling of this delicious dish.  This dish is perfect for a Holiday feast, Sunday showdown, or a make-ahead meal for someone on the go! I suggest re-heating in the oven to maintain a crisp pastry.  WHAT YOU NEED: 1 tbsp Flax, ground 3 tbsp Broth/water 1 Puff pastry sheet, thawed 2/3 cup Lentils 2 cups Vegetable stock/Water 1/2 Onion, diced 2 Garlic cloves, minced 1 Carrot, diced 1 Celery rib, diced 5 Mushrooms,...
---
• classic • dinner • meal • pie • shepherd's pie • vegetarian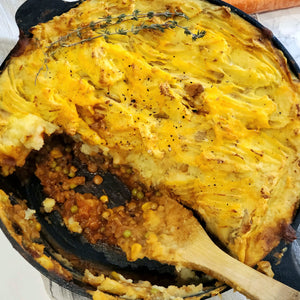 This shepherd's pie recipe delivers a deep rich and so delicious vegetarian pie. This makes 8 portions so feel free to scale down, or up, if needed!   YOU NEED:  5 lbs potatoes ½ cup yogurt 2 tbsp butter ½ cup cheese 2 tbsp oil 2 shallots 3 garlic 2 carrot 2 tbsp Shepherd's Pie Blend ½ lb mushrooms 2 tbsp flour/arrowroot 1 can tomato paste ¼ cup red wine 1 tbsp quinoa 1 cup lentils 2 tbsp tamari/worcheshire Salt and Pepper, to taste 4 cups stock WHAT YOU DO: In a pot, filled with water, place cut potatoes...